Goldman Opens Private Bank for Wealthy Clients

Points)
on 7/17/12 at 6:56pm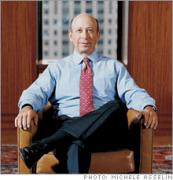 Today, this is a modest move that will deliver only minor returns next to its investment banking and trading divisions. Yet over the long term, it represents a significant shift in direction as Goldman and other banks are forced to adapt to new regulations and ongoing market turmoil. Executives hope to raise $100 billion in loans, up from $12 billion at the end of March.
The firm is revving up its lending to Goldman's wealth-management clients and other wealthy individuals. Rather than merely advising them on where to invest and offering investment funds, Goldman is now starting to collect their cash in the form of deposits and make loans to them for homes, art, boats and the like.
Is this a good move for Goldman? What does this shift mean for the banking industry as a whole?
This move makes sense. As European banks falter and pull back their loans, someone needs to step in and fill the gap. Goldman's impressive client list puts it in the right position to do that. Deposits are also seen as a more stable source of funding compared with overnight funding, so this isn't a particularly risky plan.
Goldman's traditional investment banking business is funded by borrowing cash, as needed, against the assets the bank holds on its balance sheet. Moving into a more traditional banking business of savings and loans will give the bank a more dependable, lower-cost source of funds for its other operations.
And keep in mind that this isn't by any means a shift into retail banking:
The bank has no intention of opening bricks and mortar locations or rolling out a network of ATMs, the report said. Rather, it will simply increase the amount of money it loans and holds for its extensive network of wealth management clients. Those customers will have the option of maintaining deposits, even taking out a mortgage from the Wall Street firm.
Will this move eventually be enough to offset the decline in Goldman's core investment business? Do you see any other banks pursuing similar strategies?
See my WSO blog
"The only thing that interferes with my learning is my education." Albert Einstein