If today was your last day

O
Points)
on 8/10/12 at 10:40am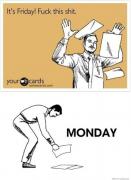 So today is my summer intern's last day. Did I get some free coffee? No. Did I get a Donut? No. Did I even get a "Thank you for being such a wonderful role model and nurturing my young mind"? Nope. That's ok, he's still got another 8 hours to make up for it. But it did get me fantasizing about what I would do if today was my last day. At least 5 times a day I say in my inside voice "F this sh*t", so today I decided to list out what I would actually do if it were my last day and I didn't care about future job prospects.
There would be a few scenes a la Office space where I take out my pent up aggression on the printer from 1984 that is still on my desk that was supposed to be removed "this week". But I'd like to think I'd also have a little fun with the rest of the cube monkeys and really go out with a bang
I would crazy glue all of my co-workers items to his desk
I'd run full speed down the aisles and just drop kick trash cans
Definitely flip a few desks
Maybe I'd be that guy that pooed in the urinal
I'd rig a few office chairs so that they'd fall apart when people sat down
Through my own going away party with a bottle of jamesons and some chipotle
I would steal so many office supplies
And to finish strong, I'd probably knock over the water cooler by my desk that things been asking for it all year
I'm just kidding – I would just send out the backhanded good bye e-mail and worry about whether or not I would have to prostitute myself to pay the rent. What would you do if today was your last day of work?