Now You Can Tip Your Favorite Barista with Plastic!

AM
Points)
on 8/31/12 at 10:30am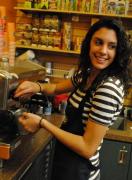 So while I anxiously await our dear fiend Bernanke's speech, I stumbled across this which is absolutely awesome. It's amazing how simple many ingenious things are. It's called the dip jar and allows you to leave a tip with your credit or debit card. It actually looks like pretty cool idea.
DipJar is a new credit-card scanner shaped like a tip jar that makes it easy for patrons who pay with credit cards to show their appreciation for good service at coffee shops and bars.
Ryder Kessler, 26, said he dreamed up the gadget after watching baristas go tipless as a cashless crowd came through a cafe near his West Village home.
"Everyone was paying with credit or debit, so the tips had plummeted," Kessler said. "Baristas take really great care of me, and I didn't like that they were working just as hard and making less
I think this is a pretty awesome idea because I never carry cash. Granted, i'm not certain if it is necessary at most places but it beats having random containers with handwritten signs asking for tips. At the very least it might make some people tip more just because it is new and interesting. Honestly, It's labor day weekend and my brain is fried. Just thought it looked pretty cool and entrepreneurial which has been a theme this week.
Would you be more willing to tip if you can just swipe your card in places like this? Do you even carry cash anymore?