Office Polidicks: I Peed up that Tree

VC
Points)
on 7/25/12 at 10:30pm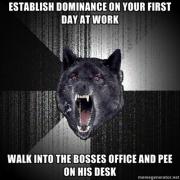 In Kingdom Animalia, of which we, as human beings, are the most evolved members (lol), the strongest and fittest within a group (also called Alpha, usually male) establish dominance by marking their territories.
Since peeing on your coworkers' desks would most probably land you in jail for indecent exposure, and kill all future job hunts for you, how do you show them who is boss?
You (hopefully) do not have to worry about those in less junior positions than you are; by right of passage, you dominate them. On the other hand, your peers run in the same pack and there can be only one Alpha,so be a dick. You see, dicks are firm and assertive, they are driven, and they have an end goal: to make it rain.
Now, being a dick doesn't give you permission to be a prick; there is a huge difference; pricks are arrogant and infantile egomaniacs who believe they are better than all others and have no pillars to support their beliefs. In fact, these are the very same sub-humans you can easily dominate by being a dick.
In your pursuit of dickness, you want to be caring. When you have your team's back, your team will reward you with trust and loyalty- be careful not to abuse them or it will all come tumbling down on your head.
Be friends with everyone, be genuinely nice to everyone but do not eve try to kill your enemy with kindness. Kindness does not kill the enemy, it kills you! Stand up for yourself, and show that you are not willing to back up.
Do not make too many enemies.Turn your weaker enemies into friends or to at least neutral individuals. If you feel your enemies are piling up, you are doing something wrong. Even the most envied and successful people do not win all battles.
Be helpful but don't be a wuss. If you are idle, offer a colleague some help with their projects. Maybe even get that round of coffee when everyone is on the verge of collapsing, but do not under any circumstances be forced into helping. When "hey guys, I am running to Starbucks" turns into "hey, run to starbucks" you have a problem, please make way for the Alpha.
Take a joke, make a joke and be a hardcore worker. Shooting the breeze with others is great, but when it's time to get things done, maintain a straight face and be serious about interruptions. No one likes their meetings or conference calls interrupted; no one wants their attention distracted, so be very firm about your rules. After all, you are there to get things done.
Find an endorser. When you are backed up by the big dogs, you are less likely to be messed with. Again, you get their support by being generally awesome. Work hard, show flexibility, and demonstrate some interest and desire in your line of work. Ass-Kissing is mandatory in the industry, however discretion in regards to method and amount of kissing is advised. Too much kissing and you're officially degraded from competitive to sleazy.
Smothering feces, bursting pheromones on inanimate objects and producing loud noises will not help you, but will provide your coworkers with great entertainments.
I may not be on the Jedi Council, but I sure am great with the Force.