Private Student Loans Becoming More Competitive

O
Points)
on 5/24/12 at 10:45am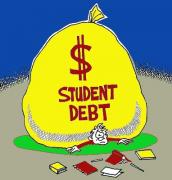 Monkeys on this site have discussed the problem of student loans and those "student loan horror stories" quite often. To all of us here that plan to take out student loans in the future: there is some good news. Many private lenders are dropping those infamous variable-rate loans and introducing fixed loans.
The largest student lender, SLM (SLM), known as Sallie Mae, introduced fixed-rate loans earlier this month. On May 21, Discover Student Loans (DFS), the third-largest education lender, started a fixed-rate loan program as well. Wells Fargo (WFC), the second-biggest lender, had launched fixed-rate loans last summer. For families with good credit, the private loans could be as low as 5.75 percent—a full point lower than the 6.8 percent for unsubsidized federal loans.
This will not solve the problems that currently exist, but how will this affect students in the near future?
While the new loans can't compare with the government-run Stafford loans, surely it is good news that newer, better options are being offered for students who need private loans to cover some educational costs. In addition the newly formed Consumer Financial Protection Bureau is seeking to educate students about which loans are best for them here: http://www.consumerfinance.gov/students/knowbeforeyouowe/ Unfortunately not everyone has good financial sense like most monkeys on WSO.