QE3's coming and its name is... War?

Points)
on 3/10/11 at 9:38pm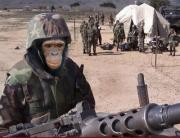 I usually read Zero Hedge's gloom and doom commentary with a grain of salt but this recent post really caught my eye.
George Washington argues that war is upon us, thanks to another round of Military Keynesianism and quite frankly, it doesn't seem that far off to me.
Look at the posts on WSO alone; killings in Saudi Arabia, $220 oil, suicide, and grave views on the macro front.
In the news Qaddafi's bombing the shit out of people and the U.S., France, and others are already in talks to support the rebels.
Turmoil, anarchy, and anger have now blanketed the Earth. Governments have been toppled; inflation is setting up widespread hunger and the world's economies, especially that of the US, are feared to be unsustainable.
Is war on the horizon?
To mask QE3?
As disgusting as the thought is, under the present circumstances I wouldn't put it past the current leaders to go for such a thing. Launching another stimulus straight-on would be political suicide, but done in the shadow of military spending it's just too easy and apparently, somebody already asked for it. With oil prices spiking, killing purchasing power and what not, given time we'd find our target.
Hell, Qaddafi's perfect for it.
I'm skeptical that this'll happen, but nevertheless; how do you monkeys feel about war as US economic policy?
Personally I feel that it's the stupidest thing ever. While it may have worked after WWII and during the Cold War, Dubya's wars on terror left America with huge deficits eclipsing all jobs and growth it may brought.
And let's not forget the countless lives lost during the course.
Man, I'm sure the military guys here won't be happy about this if it happens.
People like Coldplay and voted for the Nazis, you can't trust people Jeremy