Shareholder Value: Who Cares?

CO
Points)
on 8/19/12 at 12:30pm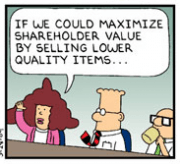 Most of us probably think--either from our finance classes or through received wisdom--that publicly traded corporations should maximize shareholder value, almost to the exclusion of all else.
But is this a good idea? Is the obsessive focus on quarterly stock price increases a good thing for investors, managers, and other stakeholders?
An article that from the New York Times suggests that maximizing shareholder value--or, focusing on the short term stock price--actually has pernicious effects on a firm's stakeholders.
I'll admit that I was skeptical when I first started to read this piece. I've read a number of fluffy articles on corporate social responsibility, and thought that the author would go into arguing that corporations need to spend more time on things that they're not well suited to do, such as charity work or environmental activism.
Instead, he's putting forth what I think is a well-reasoned argument for how the current emphasis on shareholder value maximization forces executives to being too focused on short term performance at the expense of long term value creation:
Too many chief executives succumb to the pressure to boost short-term earnings at the expense of long-term value creation. After all, their compensation depends on it. In the lead-up to the financial crisis — to take just one extreme example — financial institutions took on far too much risk in search of easy profits that would lead to a higher stock price.
The one problem I have with the path that the author goes down here is that one can just as easily argue that the real problem is that executives are not focused enough on shareholder value. If executives are too focused on short term thinking in order to please the ever capricious Mr. Market, then they're not pursuing potentially valuable, NPV positive projects that can make the equity more valuable and boost the stock price even more in the long term.
But if this is the case, why aren't managers clever enough to ignore the Wall Street stock analysts and focus instead on building long-term value?
The answer has to do with poor incentives: executives are often paid at least partially in corporate stock options, giving managers an incentive to boost the price of a stock and then cash out their position:
[quote]One of their arguments is that the calls for increased shareholder democracy are misguided; shareholders, they write, simply aren't particularly well-suited to be "corporate bosses." They are too diffuse, and too short-term-oriented, especially now that high-frequency trading dominates the market. Indeed, despite the increased emphasis on shareholders the past few decades, companies haven't gotten noticeably better.
A second argument, though, is that the central idea that led us to elevate shareholders above all others is off-base. According to the reigning academic theory, shareholders are "principals" and management serves as their "agent." Thus, it is the job of the principals to keep the agents in line. But, said Fox, "The more you treat executives that way, the more they are going to act like mercenaries, and the more they get away from seeing themselves as stewards of an organization with lasting value."
Monkeys, what say you? How can we reform the short-term culture of Wall Street? Is it even as big a problem as the author suggests?