Should Goldman Bailout Oakland? Not Quite

CF
Points)
on 8/3/12 at 3:00am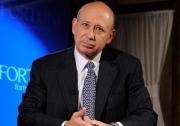 Oakland City apparently has a beef with Goldman Sachs. 15 years ago, Oakland entered a swap including a sale of bonds with GS. Oakland is now paying 5.68% interest while interest rates remain close to zero. In addition, getting out of the swaps would cost the city 16 million. So what does Oakland want? They want out of course, according to an article by CNBC.
Now before you attack the left and liberals, there's an underlying sympathy that can't be ignored. First, the economy isn't getting any better. Cities are having a harder time with fiscal austerity with rising costs and "sluggish taxes". As you might have heard, a few cities have already filed for bankruptcy protection including Stockton, San Bernardino and possibly others. Many public services have already been slashed, such as the police force, as crime rates are less than ideal. Protestors have already staged a protest outside of Goldman's offices, inducing Blankfein to respond with what most capitalists would have expected:
In response to a question about the Oakland interest-rate swap at Goldman Sachs Group Inc's annual meeting in May, chairman Lloyd Blankfein said the bank was not in a position to end the contract."That's not how the financial system could work," he said, noting that most borrowers would prefer to tear up higher-interest agreements and replace them with today's low rates."We would be frankly paring the interests of our shareholders and the operations of the company.
I think most of you, including myself, would agree with Blankfein. Capitalism and the financial markets rests on all parties honoring their contractual agreement. Such behavior would also induce 'moral hazard'. And Blankfein's right: he'd be at odds with his shareholders in terminating their swaps with Oakland. Not surprisingly, many have criticized GS for hypocritically receiving bailout money not too long ago. And to be fair, Oakland has saved more in the past; it's the future payments that will hurt them, according to an article by KQED:
Assistant City Administrator Scott Johnson said in an email that to date, the city has not lost money on the swap deal. Instead, Oakland has realized a net savings of roughly $9 million because of key actions connected to bond debt savings and payments to the variable rate index. In addition, "The city has benefited by approximately $3 million to date in debt service savings due to the lower net interest rate the city paid on the swap compared to what would otherwise have been paid in debt service payments pursuant to the original debt payment schedule on the bonds," Johnson wrote.
During talks, GS proposed to reduce some of the payments or delay payments while Oakland wants to rid all of its contractual obligations on the swaps. The city has also threatened to never do business with GS again and encourages other cities to join its fight. While GS technically doesn't have to compromise, their PR isn't getting any better. Other cities may fall suit in boycotting Goldman too. Personally, I sympathize with both parties. A compromise like a delayed payment until Oakland can restore fiscal austerity and pay back their obligations would be my plan, like how most financial institutions have paid back their bailouts post crisis.
What do you think? Do you sympathize with Main Street or Wall Street? Or somewhere in the middle and how do you compromise? If you're in favor of GS, which I expect most of you are, were you also against bailout money for banks during the financial crisis and why?