Sitting Trader Style (When You're Not a Trader)

IB
Points)
on 8/27/12 at 9:14pm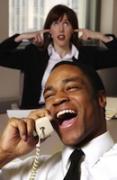 So the layout of my office is "trader-style" although I am not a trader. I only have two computer screens instead of four; a lone Bloomberg terminal now serves the entire floor. Austerity budget or something, they tell us. I don't care, if cutting extraneous costs increases my slice of the ever-so-elusive "compensation pool," it's generally agreeable to me.
However, with increased frequency, I find myself reminiscing back to the days when I had a cubicle. I was maybe two or three months out of college, otherwise known as the halcyon days of 2007. Then my job changed and I found myself in a different building - a building which fostered open communication and introduced "trader-style" seating to those who are not traders. I am a proud introvert, but I live in an extrovert's world. I need alone time to gather my thoughts; the cubicle helped by providing a necessary barrier against "distractions."
Nevertheless, when the "trader-style" get up presented itself I was initially open to the idea, naively figuring it may help me be more social at work. But yeah - a couple of years later, I can say I strongly dislike "trader-style" seating arrangements because it birthed three basic categories of nuisances (to me, anyway):
#1. The Quintessential Over-Sharer:

No, I don't care that your kids aren't behaving. No, I don't want to hear you argue with your spouse again (at this point - I'm thinking - get a damn divorce, you should have made her sign that pre-nup. After all, you are supposed to be a "risk manager"). And no, I DEFINITELY don't want to hear about your IBS, although you're probably that guy that blows up the bathroom every day. But upon second thought, that's useful fodder for the rumor mill - I now feel oddly validated, something like how the "gang" must feel after unmasking the villain at the end of a Scooby Doo episode.

#2. The Hoverer / Compulsive E-mail Reader: In my attempt to have some alone time and block out the aforementioned over-sharer, I often listen to headphones while I work. I'm pretty observant, but every now and then I'll look around to see someone who claims they wanted to get my attention, but found my e-mails/what I'm working on far more important to read than actually tap me on the shoulder. I mean, what I do is riveting stuff, but what if I was doing something really important, like updating my resume or reading about the Jets?
#3. The Megaphone. I AM LOUD. I AM BUSY. I NEED AN OFFICE BECAUSE I HAVE SO MUCH TO DO. DID YOU KNOW WHAT I AM WORKING ON? WELL NOW YOU DO, BECAUSE NOT ONLY AM I TELLING YOU, THE GUY ON THE OTHER END OF THE RECEIVER, BUT I AM (inadvertently) TELLING HALF OF THE FLOOR. LITERALLY. Ugh. Although if you combine #1 and #3 and you do have some interesting stories.
So guys - cubicle or trader style? What's your preferred getup? Clearly, I'm waiting for my corner office…which I'm sure will come a year before I retire or the financial system implodes again.
First post, long time lurker.