The Weekend Wrap-up 7.16.11

Points)
on 7/16/11 at 9:13pm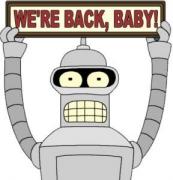 For those of you who actually read this, my apologies. This is way overdue and to make up for it I'll try to distill everything that has happened in the four weeks that I've missed into this single post. Well, not really, that'd be terribly time-consuming. Haha. I'm pretty sure it'll still be worth your while though.
So, without further ado, here's the Weekend Wrap up for July 16, 2011.
Americas:
• A little over 2 weeks ago, on the 1st of July, the Ben Bernank had the last QE2 market operation done (and the crowd goes wild). He shouldn't be feeling good about himself though; while disappointing figures might egg him to talk QE3, core CPI has snuck up, suggesting that it's pretty much entrenched and it could be deadly if he fires up the printing presses again.
• More bad news: Empire State manufacturing numbers were once again in the negative, US trade deficit has jumped to its highest since 2008, slashing GDP, and the bottom seems to have fallen off UoM confidence as it fell sharply from 71.5 to 63.8.
• Housing looks mixed; while things look like their close to a bottom, MBA purchase applications have been pretty meh, indicating few signs of a rebound.
• It's not all bad news though: jobless claims have fallen by 22,000 down to 405,000, it's lowest since April and Fitch won't be changing their outlook on the US AAA rating. Interesting note about the RA's and the US rating, there seems to be speculation that bond vigilantes are setting their sights on US bonds now because of this whole mess. I have my doubts about them forcing anything though.
• Brazil is once again on the offensive regarding the currency wars. With their interest rates around 12%, who could blame them? Business in the BRIC country has been suffering of late and BOVESPA has been in free-fall since April.
• Chile kept rates at 5.25%.
• Peruvian GDP figures out next week.
Europe:
• Greece is so last week as Portugal, Italy, Ireland, and Spain now take center stage in the drama that is the Euro Crisis. Yield curves for these countries are continuing to invert and CDS spreads are further widening, fanning the flames of fear among the EU.
• That, along with the bank stress tests, and the war with the RA's, led most European indices to another week in the red. The FTSE ended the week flat while the DAX, the CAC, and the IBEX fell 0.25%, 0.3%, and 0.5% respectively.
• The Swiss National Bank has started to show concern over the continued rise of the Swiss Franc, citing that the Swiss export situation has become increasingly difficult to contend with. Interestingly, a sizable amount of underwater mortgages in Eastern Europe are denominated in CHF.
• UK home prices fell for the first time this year.
• Portuguese stress tests out next week, same with the Bank of Italy's economic bulletin and the Bank of Portugal's report. Belgian trade figures as well.
Asia:
• Asia, although mixed, was the only continent to enjoy ending in the black this week. The Nikkei 225 was up 0.1%, the Kospi up 0.3%, the Taiex up 1.1%, while the ASX fell 0.4% along with the Hang Seng, which was down 0.3%. Shanghai and Singapore ended up flat.
• China, though scaring a lot of foreign investment away, looks to be the world's engine for growth again as its GDP, Production, and Sales growth all surprise to the upside. This is plagued by rising CPI inflation and softer imports though, something China shares with the rest of Asia.
• The Australian Dollar fell over 100 bps at one point during trading as a Westpac analyst commented that the RBA would cut rates by 25 bps within the year and a total of 100bps through 2012.
• Bank of Korea cuts GDP forecast by 0.2%.
• HK housing prices are still soaring.
And that's that. Here's my clip of the week:
Hey, we'll all be ballers who can afford shit like these in the future right?
Have a good one WSO.
People like Coldplay and voted for the Nazis, you can't trust people Jeremy