Thoughts on Quitting
PE
Points)
on 7/22/12 at 7:15am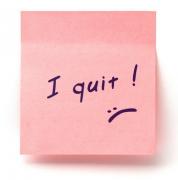 I've been thinking a lot lately about quitting my job outright, without anything lined up. I have a number of reasons behind wanting to do this, hygiene factors are a big part of this recurring daydream but what it comes down to is that I don't think this is the place in the world where I can add the most value. What it boils down to is my job admittedly is a poor fit for me. Im WAY too much of a cynic and a low level misanthrope for this line of work.
But honestly, I'm too much of a pussy and probably won't go through with straight up quitting, but the thought of being all "peace fuckers" sustains me through the long work days. I am still actively looking for other jobs, and hopefully in a perfect world will make a smooth transition to a greener pasture or at least one with less patches of dead grass. But life is a bitch and you never know what's going to hit you. Maybe ill walk into the office tomorrow and be fired on the spot. Maybe things will turn a corner and I'll start making it rain (doubtful). I don't know. I have enough money saved up to last me a while so it wouldn't be as much of a hit if I do make the decision (this thought has been kicking around in my head for a year or so).
Judging from the number of comments on the "quit early quit often" thread, the speech has made an impact on the minds of my fellow chimps, but really now, has anyone actually done this before? What were your reasons? Was there a final line that had been crossed by your employer? How did you plan your escape?