Weekend Wars: Drones vs. Moans

Points)
on 11/27/11 at 2:27pm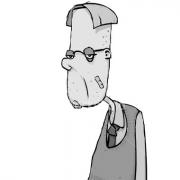 Over the past few weeks, I have been dealing with a very annoying neighbor. She can't shut up, moans, bitches and whines about every damn thing, but she's a good lay so I tolerate. It got me thinking about the workplace and how terrible it is to deal with annoying co-workers. You know what they say "co-workers, can't fuck'em, can't kill'em."
So many of you guys are putting in 80+ hour work weeks, dodging hipster turds on your way to work and getting the doormat treatment from your MDs, already. Can there be anything worse on top of that than a pain-in-the-ass colleague?
I just realized about an hour ago that if I wasn't fucking this disaster alert system with a pulse, I would probably take a hatchet to her forehead. The combination of constant complaining and a mind-numbing tone is too much to handle. I can only imagine what that would sound like every damn day of the week, from dusk-till-dawn.
So without giving anyone any bright ideas about offing that annoying sack of turds in the cubicle next to you, I'd like to hear some co-worker horror stories from you guys.
What kind of personality bothers you the most? In my experience most annoying co-workers are either boring drones or endless complainers.
The complainers tend to moan and bitch all day, but can occasionally spazzdafuggout and become quite entertaining. The drones on the other hand can quickly become as entertaining as mind sex with bambi.
When I think of the options, I am tempted to say that offing them both and taking your chances would be the only train of thought I could comfortably board.
How about yourselves? Ever had someone around at the office who made you hate life?
What does your nightmare co-worker look and act like?
How much of your bonus would you drop if their disappearance was for sale?