What % of Wall Street really has ADD?

IB
Points)
on 7/9/12 at 2:00pm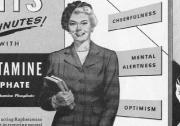 Okay, so all this rhetoric around ADD and diagnosis and disadvantage is requisite to keep the FDA from interfering like they did back in the 70's , but we should recognize that it also clouds the facts in a dangerous way.
What would the epidemic look like if we stripped away the rhetoric of ADD?
It would look like this: "A whole lot of people at top schools and Wall Street firms use amphetamines to cope with what's expected of them."
This is hardly news. Novelists, journalists, poets, mathematicians, soldiers, and physicists have used/abused them for roughly eighty years. Amphetamines can obviously improve performance, not only when abused, but also when used as prescribed. If you work with your brain, chances are good that amphetamines can (as Everyman enthused in the post linked above) "work wonders" for you... in some ways. Sometimes.
But check out the following from the National Institute of Health: http://www.ncbi.nlm.nih.gov/pmc/articles/PMC2377281/
Long story short, 5-10% of the US population used prescription amphetamines back in the 50's and 60's to combat everything from obesity to depression. But in the 1970's, the FDA outlawed amphetamines for everything except serious narcolepsy and a rare condition called "hyperkinetic disorder of childhood".
Response went kinda like this:
People: "WTF, our kids get speed but we don't?"
Drug companies: "WTF, hang on. We'll go huddle up with the physicians. Give us a couple of years."
.....
Drug companies: "Ahem. The ADHD diagnosis has come to be better understood and more generally accepted within the medical and mental health communities. Talk to your doctor to find out more."
People: "Yaaaay!"
In summary: Do you guys wonder if ADD exists because it has to in order to make the amphetamine market work?
In the 1970's, we had a population with strong inelastic demand on one hand, and on the other hand we had a set of influential pharma companies with big lobbying budgets and strong relationships with the medical community. The only thing standing in the way was the FDA saying "No way, this is getting out of hand." A few years later, some doctors discovered that ADD was actually a big huge problem for the general populace. Problem solved.
And now, if you quoted me a statistic that said that US amphetamine use had returned to the peak levels previously seen during the 1960's, I would not be surprised.
What do you guys think? Did all those people actually have ADD and not know it? Do all these people today have ADD?
Is this stuff going to stay at this level of legality and deregulation? Or is it headed back to a 1970's-era crackdown?
* This is intended as hyperbole. I hope it still is.