Why Hasn't the Euro Tanked? (Part 1)
AM
Points)
on 8/10/12 at 3:30pm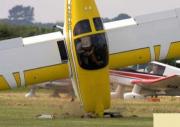 With all the tumult over the future of the euro and the Eurozone the last couple of years, many are surprised the currency has continued to hold up so well. The various debt problems in the bloc have threatened the very existence of the currency, at least in its current form. If the core is unwilling to finance the debt of the periphery, or if Spain and Italy are too big to fail, or if Greece is a lost cause and bound to exit, then why hasn't the euro fallen further?
In fact, many prominent economists have even called for euro parity with the US dollar. Thus far, however, we've yet to see this prophecy fulfilled. Contrary to many perplexed euro-bears, there are in fact several reasons the euro has persevered.
One justification is that it shouldn't be considered euro resiliency against the dollar, but more that both currencies are weak relative to other assets. Indeed, if you compare the spot return on dollars (via the DXY currency basket) and euros (vs. dollars) over the last five years to that of gold, you'll see the dollar and euro returns mirroring each other in opposite directions, while gold has massively outperformed both. It doesn't hurt that the Fed has been remarkably dovish with rates at zero and endless stimulus, while the ECB has kept its hawkish demeanor even throughout their crisis.
Despite recent trouble with the euro area, the constituents are still largely significant global trading partners. Germany, for starters, is the third largest exporter in the world. When the euro loses value, this acts to make European exports cheaper to the rest of the world, stimulating exports and inducing more purchases of euros. This has helped the Eurozone maintain their trade surplus regardless of the crisis.
Normally when a country's debt comes into question, investors will sell that country's bonds, convert the currency and invest in safer assets. Recently however, when peripheral bond yields have risen, German bund yields have fallen. It's well known that German bunds have now reached historically low yields. In other words, it seems that instead of dumping the euro after selling peripheral bonds, investors are reinvesting (at least some of) their proceeds in German debt. Since German debt is safe, the market seems to reason, there is no need to convert to a different currency to reinvest.
There is of course also the prospect that the core (ie Germany) will eventually agree to a pooling of debt, but first wants to establish as much austerity within the periphery as possible. If they were to accept Eurobonds right off the bat, they're convinced this would create a moral hazard and no one would take the austerity measures seriously. Although they may eventually reach this extent of fiscal integration, it doesn't appear to be their master plan. Rather, they seem to be inching towards it (perhaps inadvertently) with every subsequent concession to the periphery.
(…To be continued next week in Part 2)