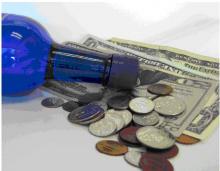 Alright so I've been thinking about this for awhile and would like to hear what some of you monkeymen (and women...I guess) think about it. The price of a particular libation usually increases as it ages (obvious, I know but stay with me). How feasible would it be to buy a variety of physical, actual bottles of alcohol for speculative purposes? I've done some searches but have only found some lukewarm articles and comments on the issue so I was hoping to start a bit of a discussion about how one could go about doing this.(Posting links to better sources would be appreciated.) I'm not talking about a vice fund or anything like that. I mean physically buying bottles of XYZ and holding them for however long in the hopes that they appreciate in value. I know its been done but I'm hoping for some direction or comments about methods, etc.
PS Don't make liquidity jokes...its too easy.
Upcoming Events
May 3 2016 - 8:00am

to

May 4 2016 - 8:00am

May 4 2016 - 8:00am

to

May 5 2016 - 8:00am

May 8 2016 -

7:00pm

to

8:00pm

May 10 2016 - 8:00am

to

May 11 2016 - 8:00am

May 11 2016 - 8:00am

to

May 12 2016 - 8:00am
Poll
What do you consider "Working on Wall Street"?
Working for a high finance bank on the actual "Wall" St
10%
Working for a high finance bank in Manhattan
47%
Working for a high finance bank in the greater NYC area
13%
Working for a high finance bank in the (anywhere in the USA)
13%
Working for a high finance bank (Worldwide)
15%
Other
2%
Total votes: 1595