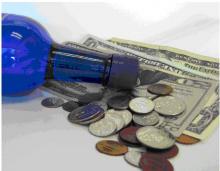 Alright so I've been thinking about this for awhile and would like to hear what some of you monkeymen (and women...I guess) think about it. The price of a particular libation usually increases as it ages (obvious, I know but stay with me). How feasible would it be to buy a variety of physical, actual bottles of alcohol for speculative purposes? I've done some searches but have only found some lukewarm articles and comments on the issue so I was hoping to start a bit of a discussion about how one could go about doing this.(Posting links to better sources would be appreciated.) I'm not talking about a vice fund or anything like that. I mean physically buying bottles of XYZ and holding them for however long in the hopes that they appreciate in value. I know its been done but I'm hoping for some direction or comments about methods, etc.
PS Don't make liquidity jokes...its too easy.
Upcoming Events
May 29 2016 (All day)

to

May 30 2016 (All day)

Jun 1 2016 - 8:00am

to

Jun 2 2016 - 8:00am

Jun 1 2016 -

4:00pm

to

5:00pm

Jun 8 2016 - 8:00am

to

Jun 10 2016 - 5:00pm

Jun 8 2016 -

5:30pm

to

6:30pm
Poll
Who is your favorite Hedge Fund manager?
Bill Ackman
14%
Steve Cohen
8%
Ray Dalio
16%
Ken Griffin
7%
Carl Icahn
10%
Jim Simons
4%
George Soros
9%
David Tepper
6%
David Einhorn
8%
Seth Klarman
9%
Other / None of the above
9%
Total votes: 638