Goldman Sachs Elevator Gossip
Points)
on 12/31/12 at 7:10am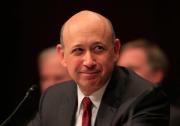 I died reading this, just thought I'd share for the people that haven't seen it.
https://twitter.com/GSElevator
Just posting a few of the lesser offensive ones here.
[At the gym] #1: What machine should I use to impress the girls? #2: The ATM.
#1: Hey, do you have change for a $20? #2: $20's are change, bro.
#1: Hermes ties are like Jordans for white people."
[Sandy] #1: I hope this storm doesn't affect my bonus.
#1: I pretend to love the person she pretends to be.
#1: It's drizzy outside, expect a Lil Wayne.
#1: I feel like this economy has really hit the average-looking girls the hardest.
#1: Blacking out is just your brain clearing it's browser history.
#1: My tie collection is worth more than your car.
#1: The exit row. First class for poor people.
#1: I sent Morgan Stanley my resume. #2: Why? #1: So i could reject them again.
#1: If riding the bus doesn't incentivize you to improve your station in life, nothing will.
#1: Each comma in your bank account adds an inch to your d___.
MD#1: What's the difference between a joke and two di___? A#1: No clue. MD#1: You can't take a joke.
Tags: