New Consulting Case Interview Guide - 2012 Edition, Now 11 Original Cases!
O
Points)
on 12/4/11 at 5:00pm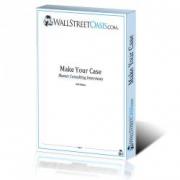 Just wanted to give everyone the heads up that we just released the 2012 version of the WSO consulting interview guide:
Make Your Case: Master consulting interviews - http://www.wallstreetoasis.com/guide/consulting-case-interviews
You can read more about it in the link above.
Thanks and good luck with your case interviews this recruiting season.
-Patrick