Thanks, WSO

IB
Points)
on 4/17/12 at 11:32am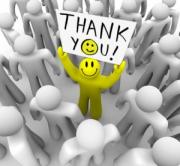 I just wanted to thank this community for the wealth of free advice that actually does exist on this site. Coming from a non-target and an under-represented US geography, I started at a boutique advisory shop where the experience I was getting was only loosely relevant to what my peers at more name brand shops were getting. I then moved to a middle market group at a large European bank in NYC, which laid off half of my group's headcount a few months back. I got the axe, but managed to come out of it with some stellar recs from senior bankers in my group. Thanks in no small part to the contributors on site, I was finally able to land a spot in a great coverage group at a BB.
I'll even thank all of the "new-monkey" (if I may coin a phrase) trolls that are beginning to populate the boards for filling my head with semi-superficial standards that kept me from settling for the first couple of offers that came my way after being laid off.
I'll try my best to pay it forward whenever I can.