Betting Odds on the Market – Option Trading

IB
Points)
on 8/18/12 at 6:30pm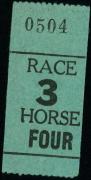 Did you know that you can easily find out the odds of a stock moving in a certain direction using option prices? Please, no option traders jumping down my throat on this one. Google has a 6% chance of increasing 10% in the next month. Check this out:
http://www.google.com/finance/option_chain?q=NASDAQ:GOOG
Select an expiration you like. I chose September 22, or a little longer than a month out. If you graph the differences in option prices for out of the money calls and pair it with the differences in out of the money puts, you will quickly see the normal distribution, consistent with the efficient markets hypothesis that prices have an equal chance of increasing or decreasing.
Take any two prices to find the percentage chance that the stock will go to that strike price within the expiration period. Today's close price of Google was $660. A 10% increase to a strike of 720 has a 1.55-1.25 = $0.30 / $5.00 = 6% chance before September 22. Said in a different way, that's a 16.7x payout. Anyone want to take those odds?