Bonus Bananas July 27, 2012
ST
Points)
on 7/27/12 at 7:30am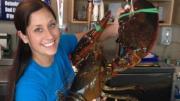 1) Facebook earnings: Good, but not good enough (CNN Money) - Figured I'd lead off with what will probably be the top financial story today. It is gonna be an ugly open for Facebook if last night's after hours trading is any indication.
2) The Real Wall Street Dress Code (The Reformed Broker) - Time to make with the funny. This is a good piece going into the WSO conference this weekend, because every new guy wonders how he should dress for the Street. Here's your answer, n00b. You're welcome.
3) Chia Seeds, Wall Street's Stimulant of Choice (Business Week) - Really? REALLY? Chia seeds. Hey, I'm willing to try anything. But I have a hard time thinking that sprinkling magic seeds on your morning yogurt is gonna take the place of Adderall or, God forbid, the Devil's dandruff. Anybody tried it?
4) Will Wall Street turn on its own over LIBOR? (Salon.com) - If you can see the humor in Goldman Sachs wearing the white hat and making rival firms look like the bad guy, you'll love this article. As difficult as it is to believe that Goldman wasn't involved in a scam with the scale of the LIBOR scandal, it's true. The question is, will they use that advantage to humiliate rival firms? Let's hope so.
5) Main Street's pessimism about stocks could be a bullish sign (USA Today) - I knew there was a reason I got back into the market last month - Joe Shit the Ragman thinks it's a bad idea! It's common knowledge that retail investors are dead money, so maybe now that they're convinced that stocks are a terrible investment the worst is over.
6) Boom in Private Student Loans Mirrored Mortgage-Lending Frenzy, Report Says (The Chronicle of Higher Education) - We all know student debt is a bubble, but have you really considered how similar the explosion in private student loans is to the sub-prime crisis? Pretty much the same reckless behavior and bad actors, and the default rates are starting to shoot up.
7) Dishonesty is the new greed on Wall Street (National Post) - Okay, this is just a quality rant. It really does seem that we've become blasé about the mounting number of financial scandals over the past five years. It's as if we've become desensitized due to overexposure. Maybe the guys at the top should quit fucking around and just do their jobs instead of cutting corners.
8) Super rich hold $32 trillion in offshore havens (Reuters) - Then again, compliance is for suckers. Just ask the guys who have $32 TRILLION squirreled away offshore. That's just staggering.
9) New Orleans tops fastest growing cities in America list (NBC News) - The Big Easy got a little bigger over the past year, making it the fastest growing city in America. The population expanded at 4.9% - six times the national average. And the reason? 7% annual growth in the tech sector. Silicon Bayou is a reality.
10) Man Releases 17-Pound Lobster from Restaurant (NBC Connecticut) - This is a pretty baller move. The guy walks into the restaurant and buys the 17-pound lobster in the tank (estimated to be 80 years old), and then turns around and releases it into the ocean. Good for him. It probably would've tasted like shit anyway (imagine eating anything that's 80 years old).
Video of the Week:
I love a good mind fuck every once in a while, and the following movie looks like it's set to deliver one unlike any I've seen since The Matrix (with the possible exception of Inception). First of all, the trailer is five minutes long. Second, pretty much everyone in Hollywood is in it. Finally, after watching the trailer three times, I still can't figure out what the hell is going on. The movie looks like a total trip, and I'm actually pretty anxious to see it:
That's it for this week, fellas. Hope you have a great weekend, and I hope everyone makes the most of the conference. I wish I could be there!