Can an MBA Land you a Sell-Side Trading Gig?
AM
Points)
on 7/6/12 at 3:30pm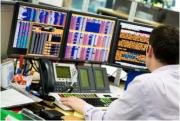 After scouring the internet and employment reports for the answer to this question, the only conclusion I've become confident with is: It's possible. It appears, unfortunately for those of us that missed the bus, that most sell-side trader recruiting on the street takes place at the Undergraduate level, rather than the Graduate level. How then, is the best way to break into the industry if you already hold an undergraduate degree?
By "sell-side trader" I'm referring to any type of flow-based (non-prop) trader at an investment bank. I've read through countless forums regarding this topic in addition to each of the top MBA and Masters in Finance programs' placement reports, and this post is meant to serve as a summary of my findings.
First and foremost, there seems to be much confusion about the topic, even from people on sell-side desks! Some claim the Undergraduate recruiting program, or "knowing people" is the only way to break in. Others insist a solid "P and L" from your personal account is what's needed. Many suggest the degree of choice is now the Masters of Financial Engineering, or something similar. Yet others are convinced the MBA is still a valid way to go.
Each path seems to have its own disadvantages. Knowing the right people seems to perhaps be a way to get an interview, but one would think a majority of these candidates would be weeded out during the interview process, as they may not be as qualified as others. The "P and L" argument makes sense to me for a prop-trading role, but not necessarily for a flow-trader. The MFE sounds good, but what if you don't have the math background to be admitted? Many argue that these programs prep one mostly for programming/quant rolls instead of trading anyhow. There's the Masters in Finance, but aside from the selective programs at MIT or Princeton (which require nearly as much math as a MFE), these programs don't seem to be targets.
So what about the MBA? From what I've gathered, the few top MBA programs in finance have placed between 3% and 6.5% of their 2011 class into Sales & Trading. Of this relatively small proportion, it's commonly believed that more than half of these roles are actually in Sales, rather than Trading- due to the reputation of the MBA being more of a "soft skills" degree. In other words, the chances aren't good.
However, these trading roles are in much shorter supply than other popular MBA career destinations such as IB or Consulting- so the chances should be lower. Since most MBA applicants are shooting for other industries, there may be reduced competition for these positions as well.
In conclusion, it seems that although the odds are not high, it appears to be possible to land a career in sell-side trading by getting an MBA. My advice for any aspiring traders, without the technical background for a MFE, would be to select a top 10 program with a quantitative reputation and take an abundance of math-oriented courses.