Death in the Digital Age

CO
Points)
on 4/24/12 at 12:30pm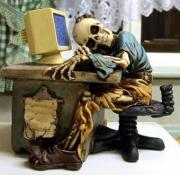 Given the current lofty valuations for tech companies and intellectual property rights have you ever given thought to how much all of your digital property is worth? More importantly, do you have a plan for your hard drives and online accounts for when your time has passed?
Needless to say, unless you want to be turned into a performing hologram one day, you should make a plan for all of your assets. Do you want to bequeath your emails, photos, and financial models? What about your online search history and that embarrassingly large porn collection?
Clearly there is a line to be drawn somewhere and if you don't draw it yourself, what should the default/standard be?
Many service companies already have certain policies in place to deal with the deceased. Facebook allows relatives to close an account or turn it into a memorial page. Google provides copies of emails to an executor of an estate.
On the other hand, the jerks at Apple have it in their user end license agreement to seize all of your iTunes purchases and have a policy of immediately deleting all emails and data on iCloud upon death of the owner. Yahoo is currently facing litigation for not releasing the emails of an American soldier who was killed in Iraq.
The topic is translating into big business for lawyers and security firms. Entrustet, a Swiss cyber security firm says it has 10,000 clients of whom it safeguards passwords for and has a list of who can access what when they die.
Clearly several privacy issues will have to be worked out. I am starting to believe that there should be a "Death Pane" in your digital settings to set some things straight.