Do You Find Yourself Stuck in the 'Busy' Trap?
O
Points)
on 7/3/12 at 3:30pm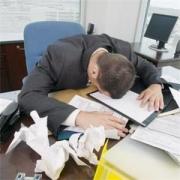 The New York Times put out a great piece on Saturday that everyone on this forum can relate to. In The 'Busy' Trap, author Tim Kreider takes a dive into modern society's over-stressed, anxiety-ridden, "busy" lives.
I've seen this article make the rounds on Facebook and Twitter and it's been passed around by a few of my friends, but I felt that WSO's audience had the most to gain by reading it.
As I went through it the first time, I found that it resonated with me on several levels. I personally relate to what the author has to say and have friends and colleagues who feel these same stresses even more strongly than I do. More than anything, I felt that his thesis summed up what it takes to make it in front-office finance to a tee.
"The 'Busy' Trap" makes two overarching and interconnected points:
People find themselves busier and busier with work and related activities to the detriment of their actual lives
This 'busy' trap is almost completely self-imposed and it's making people unhappy
To be clear, the author is not referring to people who bust their ass working multiple jobs so they can put food on the table. In his words, anyone doing that is legitimately tired, not simply "busy."
What he is getting at, instead, is the sort of person that we deal with everyday. The sort of person we all go to school with, work with, or may very well see in the mirror. He cranks out 60+ hour weeks at the office, does charity work on the weekends, and spends three nights a week cramming for the CFA / GMAT / Misc. Other Important Acronym Test. It's no wonder that he has to resort to fad diets and early bird specials to stay in shape.
Let's face it, if you want to work in front-office finance long-term and want to rise through the ranks, you more or less have to be this way. Want to work at a big time hedge fund? Start working on your CFA. Want to make Partner in PE? Better ace your GMAT and attend a top tier b-school. And how do you do either of those things? By consuming your free time with what amounts to work. Things that no honest person would choose to spend all of their free time doing.
I have a few friends and colleagues who want to be a part of the upper echelons of finance. One guy spent over three years to get his CFA, another is in the process of rounding out his b-school apps with plenty of charity work and essay-crafting. On paper, they're doing fantastically for someone in their mid-to-late twenties. In reality, are they really enjoying themselves? Quite honestly, I'm not even sure they know why they're spending all of their time working towards these goals. It's almost as though they feel like it's what they should be doing, rather than what they necessarily want to be doing.
You can see it when you browse this forum. Legions of college students and junior analysts talking about their "walk-away number" and what it takes to achieve it. Freshmen in college worrying, not about whether they want to work in S&T or banking, but rather about which specific group will get them the best exit-opps into mega fund PE. People plotting out their life paths years in advance and working in any way that they can to set themselves down that path. Even when it means sacrificing huge chunks of their life to achieve these goals that they may not even fully grasp or appreciate.
My point here is that, while it is important to set goals and to work towards them, it's even more important to understand why you are setting these goals and, further, to understand that life is not simply about achieving miscellaneous milestones, but about enjoying the journey.
Don't simply aim to achieve goals because you feel as though it's what you should be doing. Instead, make sure that you're working towards things that you enjoy. The last thing you want to do is find yourself trapped in an endless schedule of resume building activities and not even know why.
It's easy to say that you want to be a Partner in PE because they "make lots of money and make important decisions," but it's a whole different ball game to actually do what it takes to get there. Not to mention, reading headline stories about blockbuster LBOs can seem dramatic and interesting, but when you're an Associate turning the model for the nth time and (for example) taking a deep dive into the drivers of the industrial sewage flow control market as part of diligence on a new platform acquisition, then the allure of being a Partner might start to fade a bit. Again, I certainly don't speak for everyone, but it's important that one understands the reality of the dream jobs they aspire to.
As I see it, if you're in a position to be seriously considering a front-office Wall Street career upon leaving college, you face a double-edged sword. On one hand, you have a lucrative career path open to you. On the other hand, you are very likely to fall into the 'busy' trap, filling your free time with test-prep and b-school applications. It's on you to take a hard look within yourself to figure out if that's a path that you really want to go down. And if it's a path you want to go down for the right reasons.
Personally, though I've gone down a bit of the path, I decided early on in my career that I wouldn't get caught up in the 'busy' trap of finance. There are way too many ways to make it in life, success is highly subjective, and life is too short to be spending it on things that make you unhappy. If you're truly a deal freak or market junkie, then it won't feel like a trap to you, but if not, you'll find yourself caught up in a 'busy' life that you never really wanted to begin with.