Dressing for the Daily Commute

PE
Points)
on 7/25/12 at 6:30pm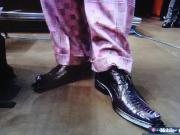 As financial professionals, most of us have to wear some variation of The Suit and Tie to work every day. Most of us live in large cities and either walk or rely on public transportation for the daily commute. And while we spend the vast majority of our waking lives in fluorescent-lit, climate-controlled offices, for a few minutes each day, we brave the elements to get to work. Given the unpredictable/often miserable weather in New York, people who wear suits everyday have to deal with commuting in creative ways. Chances are, you've adopted some commute-specific wardrobe modifications for the subway and streets. Some general observations after the break:
Shoes

You spend your hard-earned paycheck on a fresh set of Ferragamo loafers and you don't want them to get screwed up. Fellow straphangers could step on and scuff them, a morning thunderstorm could soak them, and the pavement in New York City is rough enough to wear down diamonds, let alone a new set of single-soles. So you rock your ratty Nikes under your fresh-pressed Super 150s and don't think twice about the color contrast between charcoal and neon green.

Try wearing an older pair of dress shoes for your commute, and leave your good shoes under your desk. Your good shoes will not only stay cleaner and scuff-free, but they'll also last a lot longer.
shirt

Some guys are undershirt guys, some guys aren't. I was always taught that it was a faux pas to allow the outline of your undershirt to be seen (it's usually pretty obvious, especially in the sleeves), but it beats having pitstains. You can either accept that you will sweat and wear an undershirt to add a layer of protection, or go all-or-nothing and hope that you can make it to the office before your shirt looks like Tom Cruise's in Tropic Thunder.

If you're a sweaty guy – and who isn't in 100 degree weather? – try wearing an undershirt under darker-toned button-ups on hot days. You'll avoid the "undershirt look" while hopefully staying stain-free. If your workplace is business casual, you should take care to avoid crewneck undershirts, as they'll show in the neck area.
Tie

This one's for the business formal guys. When it's a billion degrees outside, even a nicely-fitted collar can be restrictive when fully buttoned and wrapped in a tie. So you compromise and leave the top button undone, while your salmon Hermes hangs sloppily off your neck. Some guys tie an excellent knot and can tighten up a tie in moments – perfect dimple, just touching the belt buckle. However, most guys' re-tightened tie knots end up looking like a college freshman's work.

If you're forced to wear a tie, you might as well wear it well. Roll up a tie and pack it in your gym bag, or leave a few at work and knot up in the men's room.
These observations might be obvious to you, but we've all struggled at some point. Everyone has their own methods when it comes to keeping the office getup fresh. What are yours?