Enlisted Military Skills at BB banks.

AM
Points)
on 5/28/12 at 8:00pm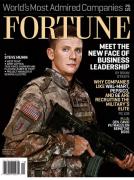 As today is memorial day, I wanted to share a few things about being in the military that I think help develop you to be a solid employee for the BB culture. Just for background, I joined the Air Guard as a security forces troop back in 2003 and spent 6 years in that role, "retiring" as a Staff Sergeant (E-5). For the most part I was a weekend warrior but had somewhere between 2-3 years active duty mixed in there. Here are my top three reasons an enlisted military experience can help you out at a BB.
If you're not early, you're late.

This is one of the main rules in any military branch and unit. If you are told to be somewhere at 0x00 hours, well then you had better be there 5 minutes early per rank of people between you and the highest ranking person attending (so that you are there at least 5 minutes before your immediate supervisor) or you're going to get shit from your higher ups, no questions asked. At my BB some of the guys and I had a running joke that every meeting would always start 7 minutes late (no later, no earlier, always 7 and that's how it always seemed to happen no matter what), especially if a lot of people were involved. A lot of the times reminders had to be sent out that conference lines were open, etc. When you are always early, you stand out and higher ups notice (they especially notice people who come in late). After being in the military, you don't even try to be early, it is so ingrained into your brain that it just happens.

13 hour shift? No problem.

As military cops, we used to have 12 hour shifts. Add to that 30 minutes to arm up, receive the briefing, and post up, and 30 more at the end of the shift to arm down, account for the weapons, and be dismissed. The shifts in the military are usually incredibly boring, there is not much to do, especially when you are on the night crew. In comparison, when you are always busy at the bank time flies at quadruple the speed. When I had to pull 12+ hours in a day it would never be an issue.

Taking shit from people above you that you don't like? No problem.

In the military you are taught to respect the rank . For the most part, I had great supervisors, sergeants, officers, whatever in the military. But once in a while everyone gets the guy/girl they do not get along with which makes things very difficult. Usually you try to just stay away from the person and keep it professional, but as much as you do not like them, you have to respect them and the rank on their sleeve because for one reason or another they earned it and you would always expect the same from your subordinates when its you in the leadership position.
Happy Memorial Day everyone!!