Forget the white whale, Dimon is the man

ST
Points)
on 6/24/12 at 8:30pm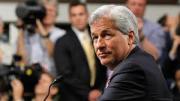 Since the whole synthetic credit portfolio loss JPM has taken a lot of heat from the press and the government.
In my opinion the loss was inconsequential, it will most likely effect one or two quarters earnings at most, but that's not what I am here to talk about. I want to show a senate hearing where Dimon spent an hour under some stress.
The way he handled this situation, the way he runs JPM, and his personality are some of the reasons I think JD is the man.
This link is a testimony he gave to the senate voluntarily. He stuck to his guns and took responsibility for the trading loss. (from Jun 13)
Dimon's senate testimony
Highlights for me:
First off the accountability piece, I give so much respect to him for coming out and taking responsibility instead of pointing the finger at a rogue trader.
Senator Menendez getting angry at JD for no reason (86 mins)
Senator Demint following it up by saying "we can hardly sit in judgement of your losing 2 billion because we lose twice that every day." (90 mins)
Lastly, JD giving non-biased advice to the Senators throughout the hearing. He points out that these conversations would be tremendously beneficial in the long run so someone can teach the regulators what will fix the banking system.
I hope you guys enjoy the video, any other thought on Dimon? Or thoughts on the video?