Israel, the Middle East and our Defense Industry

Points)
on 8/18/12 at 10:30am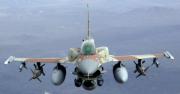 Israel claims it's ready for a 30 day war with Iran. Not really surprising, saber-rattling has been rampant in the area since the relative peace and Israeli dominance in the area after the last Lebanon conflict and the recent Gaza War. With organizations such as Hezbollah having Iranian backing, Israel has an excellent entry into conflict with Iran, regardless of Iran's nuclear capabilities. Hezbollah hardly has a clean record, and is said to be responsible on the recent attack on Israeli citizens in Bulgaria.
What does it mean? Well, these potential actions have already led to new purchases from the United States defense industry; more C130J Super Hercules aircraft from Lockheed Martin, good for us defense industry goons. Since battlefield casualties are only numbers for strategic planners, let's talk dollars and history.
Israel's battlefield exports are a global success, from radar jammers in Indian Mig 21 aircraft to Tavor assault rifles for the Brazilians. And this stuff works, take it from me. They have made a name for themselves in the global defense market with advanced technology inspired by and tested in nearly constant conflict. If you monkeys didn't know already, the 1948 War, Six Day War and the Yom Kippur War were not only tragedies of blatant aggression by neighboring Arab states, but the latter two were also an excellent test bed for Soviet and American backers.
The Cold War had very few instances of eastern and western top-of-the-line hardware going head to head. What better way to see how it goes than shipping your best stuff to the Middle East for free? The Soviets seemed to go even further than the west, sometimes sending their most advanced aircraft, such as the Mig-31, into the area.
Times have changed. The Middle East has become more of a mess than ever. The US backs Arab states that fund terrorist groups through private routes, and Israel has certainly learned to build its own hardware, albeit with some US dough. There a couple of possibilities here:
First, Iran really does want to attack Israel. Iran, against all common sense and urges of self preservation, wants to attack Israel using conventional or nuclear weapons, disregarding the certain global backlash and its own guaranteed destruction by what would most likely be a large coalition. Israel must prepare for retaliation or a first strike, although the late Golda Mayer wouldn't be down with the second option. Israel would no doubt come out as the victor, although it would still have to be careful with regards of the conflict's "intensity dial." Let me explain. The first notch on the intensity dial would be something similar to the NATO airstrikes in the Libyan Civil War. No troop presence on our behalf, only air strikes on key targets. The tenth notch would be the Eastern Front of World War Two for the Germans: scorched earth, with civilians given no opportunity to wage a guerilla war (or survive).
Iran's state run media means extensive propaganda, which could in turn mean very motivated civilians prepared to carry out a lengthy guerilla campaign. Common sense and geography would state reality would lean more towards notch one, given between the two nations is Syria/Jordan and Iraq. Let's not forget, however, that Israeli attack aircraft lack the range to attack Iran from home. Perhaps the utilization of a US airbase abroad might have to occur, with potential for naval conflict. Naval conflict that would no doubt disturb oil transportation, a throwback to Iran's last major conflict with Iraq.
Second, Israel wants to attack Iran because of a hunch combined with some intelligence of their nuclear program and terrorist-backing. Sounds aggressive, but we all remember Iraq. Combined with a nation's natural desire to exercise dominance in an area full of nations that don't recognize its legitimacy, Israel feels it needs to start wielding that saber. It has been stated time and time again, even in a recent CNN interview with US Defense Secretary Leon Panetta after his recent trip to Israel, that

Iran has not decided whether or not it will use its nuclear technology to build the bomb.
With Iran being the only hostile nation in the area with the solidarity and strength to pose a threat to Israel, a preemptive strike based on no real Iranian nuclear threat still seems like a war worth waging. Pro Palestinian folks sometimes ask "What would you do if you were a Palestinian?" It's a worthy situation to consider.
Another hypothetical situation worth considering is what the US would do if they had Iran within the strike area of medium range missiles. A recent Guardian article states that an Israeli official predicts "around 500 deaths in such a clash." Seems low, but then again I doubt they consider civilian casualties. Apparently no one does anymore. Regardless, sanctions and talks are failing. It seems as though violence is unavoidable given current administrations. Let's not forget how Israel made a daring attack on Saddam's nuclear facility in 1981. We should assume they are fully prepared to destroy anything they see as a potential nuclear threat.
What effect will this have on US industry if we don't get involved? With Lockheed Martin providing Israel with new C130J transport aircraft and the powerful Israeli Air Force being made up of Boeing's F-15 and Lockheed Martin's second most advanced Block 52 F-16, any potential conflict will increase sales to these contractors already making it big in the Middle East. They will need parts, munitions and most likely more technical advisors. These large firms are moving to more sales in the area with looming DoD budget cuts. This isn't even including the numerous other systems and small arms US firms such as Raytheon and ATK provide.
Interestingly, the only nation with a more advanced version of the F-16 is the United Arab Emirates, which still does not officially recognize Israel's existence. Strange? It's no surprise many of these firms' top brass are made up of former Pentagon officials and fromer diplomats.

What's better than selling an advanced piece of military hardware that came to be through taxpayer-funded R&D?
Potential death and destruction means more money and more employment here in one of our most profitable sectors. I feel so dirty.
What if we do get involved? Well, that's another story, and messy wouldn't even begin to describe it, but the industry will profit. The industry always profits.