My Three Free Months in NYC

AM
Points)
on 8/31/12 at 3:30pm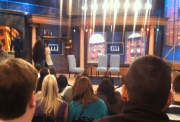 Andy note: this comment was originally posted inside City Smackdown 1 - Empire State of Mind and I thought it should be made into its own post for those who didn't see it. Enjoy.
If anyone has a chance to experience NYC while unemployed, I would highly recommend it. It is completely different then living there while working in the finance industry. I was lucky enough to have 3 months off, as I quit my job early knowing that I will be starting an MBA program after the summer is over, and although it was tough on the pocketbook, it was one of the greatest experiences I have ever had.
Please understand that the below is particularly awesome in my book just because I grew up broke in suburban Denver CO, where there wasn't much happening and if there was, I probably couldn't have afforded it anyway. So for those of you who go to Egypt (pre revolution) just cause its a three day weekend, try not to flame too hard how my idea of a good time is weak.
The most enjoyable part of being off was the ability to wake up and go on a 3 hour bike ride, or go down to the Battery Park basketball courts along the river and play pickup games for 4+ hours. Doing these two activities 4-6 times a week for 3 months straight was great, and if I was financially set for life, this is how I would spend my time for the foreseeable future. But that's just me, it is a very unique outlook and I know most monkeys will think I am crazy for doing this.
Another thing I enjoyed was going to all of the shows New York has to offer, it was easy to attend tapings of Jimmy Fallon/Letterman/Etc. (most of whom film on weekday afternoons) as well as travel to nearby cities to do the same. For example I went up to Stamford to watch a live taping of the Maury Povich show (don't hate, it was a good time). The best was doing this with friends that would come visit from out of town.
I am a huge NHL and NBA fan, so I got to see so many playoff games from start to finish it was ridiculous. I also got a chance to go to some Rangers, Knicks, Devils, Flyers, etc... games. This would just not be possible with a finance job.
Dating was also a lot more convenient. When you get a number at a bar, instead of figuring out some evening or weekend date or what not, the lunch date becomes available. The lunch date is awesome for one reason. No matter how the date goes, good or bad, your date has to go back to work 99% of the time. One of my pet peeves was when you are a dinner and your date isn't as fun as you imagined she would be and you no longer want to hang out afterwards, you usually have to make something up or try to wrap up the dinner without being obvious that you want to leave on your own and fast, which as you guys and gals know can sometimes get awkward. With lunch dates this problem is 100% averted.
I also took out almost every restaurant and bar that I've wanted to go to off my list. Before 6PM almost nothing requires reservations, so you can go get a steak at Primehouse or a Seafood dish at Morimoto without any waiting. At the popular bars/clubs, if you go for drinks during the day a few times a week and shoot the shit with the door guys on your way in and out, it is easy to set yourself up to skip the line and not be required to buy bottles to get in at 11pm on a Saturday night.
I could keep going, but I think I covered the majority of the main genres that needed to be covered. I want to finish with this primary point. I was able to do what I wanted, when I wanted to do it. If some random idea popped into my head, I was able to execute immediately instead of having to worry about scheduling it for an uncertain future date. That and the fact that I slept for 8-10 hours a night was why this was one of the most amazing three month periods in my life.