Need A Job? Consider Moving to Brazil.
Points)
on 6/29/12 at 10:30pm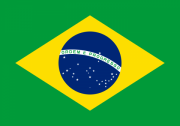 Yesterday, there was a post by another author discussing the possibility of moving to Singapore. Today, we will discuss the possibility of relocating abroad to another major international location: Brazil.
As some of you may already know, many reports have deemed Brazil as the next potential economic superpower, similar to how China was viewed about a decade ago. Interestingly enough, just ten years ago, Brazilian professionals were leaving their country to look for better opportunities elsewhere. However, these days, hordes of foreign professionals from countries such as the United States, Portugal, and Spain are going to Brazil for potential career opportunities.
The reason?
A booming consumer market and a shortage of workers in skilled professions in the country, which have fueled the demand for foreign labor. According to the Justice Ministry, the number of legal foreign workers in Brazil jumped 57% last year to 1.51 million. In addition, Brazil added 2 million jobs in 2011; a large number of them being white-collar jobs. Here's a look at some other facts and figures for the country :
Brazil is the largest economy in South America, the world's seventh largest in terms of Purchasing Power Parity (PPP) according to the IMF, and recently overtook the UK as the world's sixth largest economy.
The unemployment rate was at 5.8% for May compared to those of other countries - U.S.(8.2%), U.K.(8.2%), Euro zone(11%).
In the last six years, the demand for skilled labor and economic growth in Brazil have driven up average inflation – adjusted wages by 30% to 2,114 reais ($1,060) per month.
An opportunity seems to be there: the move has become increasingly popular for many finance professionals and/or entrepreneurs. Personally, I do not know anyone that has moved to Brazil, but I want to share one of the profiles of American expatriates that was examined in a report from CNN Money:
Josh Livingston, a banker and New York native, moved to Sao Paulo and "found a vibrant banking community and expat community."
It's a lot more exciting…you sort of feel the energy, there's a lot more going on in terms of mergers and acquisitions, which is where I work.
In fact, according to the Institute of Mergers, Acquisitions and Alliances (IMAA), 7,012 M&A transactions with Brazilian firms totaling a value of $707 billion had been announced between 1993 and 2010.
One of the downsides though: prices are around 20% higher than they are in Manhattan. Nevertheless, interest in moving to Brazil has certainly been developing. Even a quick search on Wall Street Oasis for 'Brazil' reveals several discussions about IB/HF/Consulting opportunities in that country.
So I want to officially open this topic up for discussion: what do you guys think about the idea of moving to Brazil?