Of Men and Bosses

VC
Points)
on 8/31/12 at 12:30pm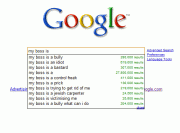 I don't know about you, but I get along very well with the man who signs my checks every month. We have a blast when we go out, we both like our steak rare, we pull faces when people aren't looking and he is dead set on finding me a boyfriend. "A lawyer is your best option" He says, "the only type of person who would survive an argument with you"
When this man is not inviting me to rooftop parties to meet our investors or clients or adorable baby slow lories, he spends his time micromanaging the living nerves out of me, and generally being unbearable and inefficient. That of course is on top of losing 100 points of IQ as the day progresses.
The more points lost, the more I question whether it's fair for everyone working under him to endure this type of mental anguish and psychological torture. Soon after I started showing symptoms of irritation and disdain, my productivity sank into deep, cold, shark infested waters and my reactions metamorphosed into unmitigated stubbornness and out-and out challenges.
I became miserable. I became miserable because I let his inadequacies affect me at a level that should be impenetrable, and so, I made a list of the habits and actions that drive me bananas and how I can conquer them.
He is always late: Confirm meeting times, reconfirm meeting times, reschedule after 15 minutes of no show.
He doesn't care what others schedule look like: Don't grant "let's meet in 20 minutes" meetings unless it is of utter importance, share calendar with him.
He is untrusting and paranoid: be patient, realize it's not a fault of mine.
He is inefficient: Suggest more efficient ways to get things done, be very clear on instructions, double check, re-phrase and re-word his orders/requests to avoid alleged "misunderstandings", document deadlines, ask for meetings agendas, give realistic and comfortable estimates to handle the work load.
He does things last minute so they become an emergency and on ASAP basis: Follow up for feedback shortly after tasks are off my plate and on his, ask him to prioritize.
He says things like "be professional", "I want you on your best behavior": Tell him that this is offensive and unprofessional; remind him that I don't need reminders and that I will rip his eye balls off if he ever does it again.
He doesn't care what he hired you to do, someone has got to get things done: Point out strengths and weaknesses, suggest other employees to carry on tasks, make it clear he is missusing my time and energy.
He is opportunistic: Say no.

I have a few other methods in the bag that I will revert to if the above-mentioned ones fail. Shout out to our very own Patrick who suggested I CC him on every "LOL" and due diligence email that goes out of my box.

If you, ladies and gentlemen, have other suggestions on how I can tackle the issues, please share with me. Have you been in such situation? What worked? What didn't? How do you manage your boss?

Please note that practical jokes, hate mail, and beating him senseless in a dark alley are not acceptable options.

Thank You!
I may not be on the Jedi Council, but I sure am great with the Force.