Please bend over for this quick reality check

VC
Points)
on 8/17/12 at 12:45pm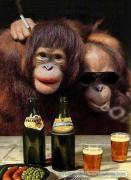 Despite several agonizing trials to hide from the plague that hit WSO lately, an overpowering mix of nausea and hysterical laughter took over me, and I gave in. In the beginning, I desperately wanted to unsee all the topics and comments I have seen… but there were no industrial strength eye bleach powerful enough to put me out of my misery.
I then decided to make the best out of the situation; I created a drinking game- every time someone on WSO writes something about banker chicks being uglier than a beat up coyote, I take a shot. Unfortunately, I went to work hung over every single day of the past week.
As the great and late Biggie Smalls said: "Can't we just all get along and just bullshit and party?" Well, in order for the bullshit and party to properly materialize without any drama or complications, we need to keep in mind a few things:
To all the lovely, reasonable and mature men on here: some women just want to have fun. Let them have fun. If they don't want the banker, they can have the PWM dude. If that offends you, then you need to perform the "where is the stick" test. The results are very satisfactory, I've heard.
Honeychildren of today and potential financiers of the future: most of you sound like douchebag concentrate when you talk about how 'busted', 'egomaniacal', 'bitchy' or 'over-compensating, overachieving, fugly ducklins' female bankers are. You are not particularly god's gift to women. Chances are, you have some form of a trait complex coupled with a less than stellar performance. U no like, u no date. Simple, yes?
This one is for the delusional: you're looking for loyalty, nurturing nature and good culinary skills? So you really really really don't care if she/he is a two out of ten? You mean to tell me that you can overcome how fat your mate-in-question is because they are loyal to you? Damn! All the while I am looking for hotness, potential for success and witty banter? Well, at least I am not fooling myself.
Ladies: please don't make us all look dysfunctional. Don't generalize. Your preferences do not dictate mine. Your overly aggressive or adversely sentimental ways do no apply to some of us. It's okay to be aggressive, but it's not okay to drive it to the extreme. It is also completely expected of you to be soft and girly and whiny, just don't push it over the top, or before you know it, someone might just push you off the top.
In conclusion: let's all just grow up a little bit. Let be whoever want to be whatever they want to be. Voicing your stereotypical opinions of how a group of people may behave based on their chosen profession is as ignorant and far detached from life experience as could be.
Go get that ADHD BSD, girl, he actually is fun. And you, sir, who believe banker chicks are materialistic mozafuckaz, find a meaningful special ed. teacher. I am sure you'd make a cute couple.
I may not be on the Jedi Council, but I sure am great with the Force.