Will Code for Equity
ST
Points)
on 8/27/12 at 8:20am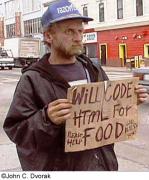 Finally an answer to the age-old (at least the past 20 years or so) conundrum of how to get your start-up off the ground if you're a hustler with no money or programming skills, or you're a coder with no idea how to run a business. This gave me one of those, "Why didn't I think of that?" moments when I read it.
Late Labs is the latest crowd-coding website, but this one comes with a twist: it's a crowd-coding site where coders can pick the project they want to work on and receive equity in the company when their code is accepted. The company is then managed from start-up to (hopefully) exit by Late Labs.
In that sense, it's not ideal for a really hands-on entrepreneur, because you'll be signing away a lot of the direction of your company. But for someone who just has a really cool idea and no real execution plan, it might be the perfect solution.
It's obviously more advantageous to the coder looking for a side project, or projects. Sure, there's a risk that your equity will never be worth anything (a statistically significant risk), but it all looks good on the resumé, it enhances your chances of being hired full time by the company if it does take off, and then there's always the minuscule chance that you're coding a module for the next Facebook.
I've always been a big fan of collecting equity. I've got a pretty healthy stack of worthless stock certs in my office, but I enjoyed acquiring every one of them. Perhaps my favorite is my stock in International Brewing & Manufacturing, Inc., the company who installed (with my actual physical help) all the brewing equipment in the original Pizza Port in Solana Beach.
Even though they went tits up shortly after that, I've had a few that worked out and they've helped keep me in the lifestyle in which I'm accustomed. Needless to say, I'm a big fan of equity.
What do you guys think of the concept? Would you spend 100 hours grinding out code for some equity in a start-up? If you're an idea guy, would you be willing to let someone else take a crack at executing your idea if it meant you only retained 5% equity (but all you gave up was the idea itself)? Is it worth the risk for the potential payoff?