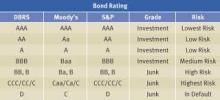 The other day, I had the opportunity to attend a presentation by an analyst who's focus is in Rates Trading. During the presentation, he talked about the future outlook of US Tsys and what that said about the US Government's future relating to its credit rating and debt/gdp ratio.
The most disturbing and eye opining chart was an overlap with the US Tsy yields and the AVERAGE AAA Corp yields, with the X-axis extending 30 years. Naturally, the AAA yields were a little higher than the Tsys...until year 25, where they intersected. Thus, year 30 showed that the AAA yields were lower than those of US Tsys (suggesting AAA Corps carry less risk in the long run).
Obviously, the implications are huge. This essentially means that there is greater confidence in AAA corporations making coupon payments than the US Government (startin in 25 years).
Another implication relates to how bonds are traded in a Risk-Off environment. Currently, the flow results in buying Tsys and selling Corps/Equities. If Corps become safer (lower yields) that could lead to a shift of inflowing Corps and outflowing Tsys. While only certain Corps are trading lower at this time, that number will likely increase as US debt obligations increase.
So do you guys (UGs, S&T Analysts, anyone) think that Risk-Off trading will see this dramatic shift, with Corps being the safer option?
"Presidents come and go; Exxon doesn't come and go." - Former ExxonMobil CEO Lee Raymond
Upcoming Events
Jun 1 2016 - 8:00am

to

Jun 2 2016 - 8:00am

Jun 1 2016 -

4:00pm

to

5:00pm

Jun 8 2016 - 8:00am

to

Jun 10 2016 - 5:00pm

Jun 8 2016 -

5:30pm

to

6:30pm

Jun 11 2016 - 8:00am

to

Jun 12 2016 - 8:00am
Poll
Who is your favorite Hedge Fund manager?
Bill Ackman
15%
Steve Cohen
8%
Ray Dalio
16%
Ken Griffin
7%
Carl Icahn
9%
Jim Simons
5%
George Soros
10%
David Tepper
5%
David Einhorn
8%
Seth Klarman
9%
Other / None of the above
9%
Total votes: 693