No Industry Selected - No Status Selected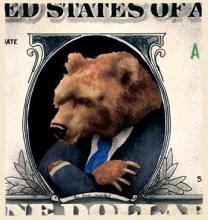 Since bottoming out in march 2009 the stock market has more than doubled in less than 5 years. This has been the longest bull market( out of 25 bull markets) since 1929. Honestly, the last 20% gains in the stock market have been a fools rally with no fundamentals behind them. The market is way over-bought folks.
The only reasons equities keep rising is because the stock market is the only place where you can see any real return on your money, thanks to the fact that bond yields are below inflation and interest rates are kept at all time lows.
We all saw what happened to the market when the Fed announced that they will begin slowing down QE in June 2014. Just watch the market when QE is over and the easy money is gone/ interest rates go up. I can easily see another 2008 crash coming where we can all pick up on same great bargains in the market.
The correction may not happen tomorrow, next month or next quarter , but the market can't go up forever. And when it does correct I hope we are there to profit from it.
Upcoming Events
May 2 2016 -

9:00am

to

10:00am

May 3 2016 - 10:00pm

to

May 4 2016 - 10:00pm

May 4 2016 - 10:00pm

to

May 5 2016 - 10:00pm

May 9 2016 -

9:00am

to

10:00am

May 10 2016 - 10:00pm

to

May 11 2016 - 10:00pm
Poll
What do you consider "Working on Wall Street"?
Working for a high finance bank on the actual "Wall" St
10%
Working for a high finance bank in Manhattan
47%
Working for a high finance bank in the greater NYC area
13%
Working for a high finance bank in the (anywhere in the USA)
13%
Working for a high finance bank (Worldwide)
15%
Other
2%
Total votes: 1560