Can You Be Happy as an Investment Banker?
O
Points)
on 2/19/12 at 4:45pm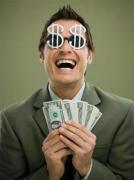 Interesting post by Cal Newport today on his Study Hacks blog. See Here: http://calnewport.com/blog/2012/02/18/can-i-be-happy-as-an-investment-banker-the-difference-between-pursuing-a-lifestyle-and-following-your-passion/
Personally, I think the hours and crap you have to deal with make it a pretty terrible career for a good quality of life, but I also think it can make you a stronger person if you go through it.
Do you think you can be happy as an investment banker?