Delaying graduation: good/bad idea?

O
Points)
on 10/26/08 at 10:05pm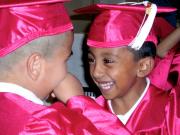 Who else is thinking about doing this? A month ago, I would have NEVER even thought about this, but now Im getting 'desperate' (I guess you could call it that).
If I dont get an offer by December, I'm gonna take my GMAT and either try to get into a 1 year M.Sc program to start next fall or delay graduation by a year. Hopefully 2009 fall FT recruitment will look a lot better than this.
Pros:
-It will give me another (and more likely) shot at trying to get an SA offer; learned from my mistakes from last year
-If I just delay graduation...it will be a pretty lax year; gives me time to 'smell the flowers'
-More time to network
-Wont be stuck in some BO job
Cons:
-2009 FT recruitment may be even worse than this year
-I'll lose a year's salary (even if its a $35K BO job) while incurring more costs
-I'll feel like Im a year behind; bad for motivation
-And (the most obvious one) my current debt levels :P
Not sure what to do anymore :(