People who have left IB to pursue a passion

IB
Points)
on 5/9/11 at 5:59pm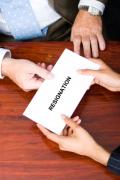 I've seen some posts on here about how the financial security provided by a career in investment banking will eventually allow people to leave the industry in pursuit of a passion or lifelong interest.
Have you ever had a co-worker tell you that they were leaving the company and when you asked "what bank/PE firm/HF?" they responded with something that totally surprised you like "I'm opening up a bait and tackle shop down by the shore."
Do things like this actually happen, or does the allure of bonus season prevent every Ray the VP from opening up his very own Bait and Tackle shop?