Shaking/Trembling during Phone Interview
O
Points)
on 6/26/12 at 4:11pm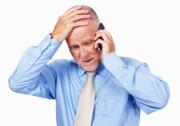 Today, I had a interview over the phone for a position at a small firm.
To my surprise my body started to shake/tremble while talking over the phone.
I wish my voice wasn't trembling as well...
I'm not socially awkward and this is the first time that this has happened.
Any tips on how to get rid of it?
Thanks