The majority of the U.S.' unemployed have attended college.

CO
Points)
on 5/25/12 at 1:00am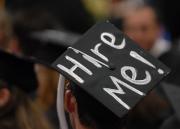 Interesting article... pretty depressing too when you really look at it. With all the discussions that we've had on here about the usefulness and ROI of a college degree, does this further support the notion that it's largely useless now? At least for a majority of people? I wonder, am I doing my students a disservice in getting them to apply to colleges, considering their ability and institutions that they'll likely matriculate at.
More kids are going, but not finishing...