Who are your real friends?
EN
Points)
on 8/3/10 at 8:34pm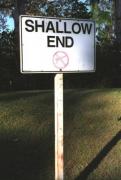 After working in the city this summer, my strongest impression has been that the people in New York are ridiculously superficial. Let me preface this by saying that I come from a small town, so maybe there's a latent tolerance period for NYC-style bullshit that has yet to elapse for me. The guys I hung out with in high school weren't the brightest kids by any measure, sucked ass in high school, and now have no discernible future. We fucked around at school and got into a lot of dumb shit, but in general, we had a great time.
Now, all my friends are college kids working on Wall Street. It's an awesome feeling to be able to go out and get shitfaced with like-minded people, but I get the feeling that it's all superficial. If I ever got into serious trouble or ended up in the hospital, I doubt any of these guys would have my back. On the other hand, I can count on my broke-ass/deadbeat friends, some who are still living with their parents, to check up every week (it's happened before).
Not to delve too deeply into feelings and other emasculating subjects, but to all the seasoned New Yorkers out there--what is your take on my dilemma? I don't want to be that 40-year-old guy who wakes up one day and realizes that all his friends are full of shit. I'm not into buying bottles at the club and would much rather pregame before going out. Another note--all the girls I've met in the city are fucking superficial. Over the years, I've stopped coming home entirely, and I've stopped talking to the people who actually gave a shit. In hindsight, I'd much rather talk to the cute girl from bio class than the hottie wearing red-bottomed heels. As my internship draws to a close and my deal involvement winds down (with return offer in tow nonetheless), I finally have the time to reflect on my experience this summer and put it into words. Maybe I'm still stuck in a small-town mindset, but right now, thinking about the prospect of only having douchebag friends, while working in NYC for the foreseeable future, just sucks.
Feel free to add any comments or thoughts.