WSO Conference: Earlybird Tix Sold Out!
O
Points)
on 4/7/12 at 4:38pm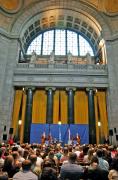 Fellow Primates,
The earlybird tickets have sold out already for the WSO Conference, almost a full 4 months before the event. We are super excited to make this conference an amazing experience for all of you.
You can still get a discounted ticket, but we do have limited capacity so we can't make too many available at this discounted level. To get in now before that discounted level sells out, please use this link: http://wsoconference.eventbrite.com/
We are also very excited to announce the venue next week which we've been searching for actively in the past month (just getting final confirmation). I think all of you that have already bought your tickets will be very pleased.
Stay tuned for the venue announcement next week and speaker / panelist announcements soon after.
Thank you for your support,
Patrick & WSO Conference Team