You Are Not Your Job

EN
Points)
on 5/26/12 at 4:58am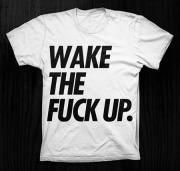 As a reminder - this goes out to all the little pieces of sh*t out there that thinks the title of your job is what classifies you as a human being.
You are not what your job title is.
You are not how much you make.
You are not what you own.
Human beings were not designed to spend time in offices, and if you're spending 90% of your waking hours in front of a spreadsheet, then what a sad existence you have of a life - especially when you try to compensate for this by trying to act like you are the shit just because you make 100k per year, but in actuality you're lucky to break $30+/hr considering the hours per week you work, commute time, and your bitch md calling you at 1am asking for a re-do.
So don't forget, your cog position in the company you slave for is solely based on how much the person above you thinks you are worth to the company, nothing more. You are a number. The ego you derive from this is a false state of mind. F*ck your job title, you ARE what you have experienced in life, NOT what your job title is.
Sorry had to vent a little bit - most nights out in the city I have a good time, but tonight a group of assholes I encountered at a bar in midtown tonight pissed me off a bit.
First person that comes out this fucking door gets a... gets a *lead salad*, you understand?