2 Ways To Make Your B-School Applications Easier
IB
Points)
on 6/14/12 at 5:00pm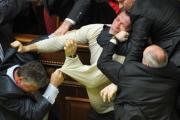 I recently read an NPR article that talks about how colleges fight for top students by offering merit-scholarships to students that would otherwise attend other institutions. This "discount" is then made up for by the students that end up paying full price. This makes sense, and in the end, a school is really just a business that makes decisions that maximize its brand value. There is really no point in offering someone money for something that they would have done anyways. Similarly, knowing who to offer money and how much to offer to get them to choose your school over another is definitely a practice that takes place.
This got me to thinking about b-schools (something that I have been doing a lot lately). Schools are competing with each other for top talent just like students are competing with each other for spots at the top programs. In reality, potential students waiting around for acceptances/denials are not all that different from admissions committees waiting around to see who will accept/deny their admissions offers. Although the advantage is definitely in the schools' favor because there are way more applicants than there are top MBA programs, this led me to two seemingly important realizations:
1. You can not discount the importance of "fit" in the applications process.
If after reading your application, the admissions committee is not convinced that you would accept an admissions offer, you probably will not get in (unless you are a "top choice admit" in which case you might get in anyways). If you are on the bubble, you might be lucky enough to get waitlisted at which point it would probably be in your best interest to do some convincing.
I think that the best way to address this issue is in the essays and by visiting the school. Many schools give you a chance to address why them in a specific question, or in the "optional" additional information essay. I also think it is a good idea to visit the school because I doubt that many people would waste the time and money visiting a school that they do not intend to go to – I am also willing to bet that admissions committees are cognizant of this fact.
2. It will probably make your applications process much less stressful if you realize that schools want good students just as bad as students want to get in to the best programs.
Schools are businesses that are fighting over students that will add value to their brands. Increasing their statistics (GMAT, GPA, percent employed after graduation) and increasing diversity with respect to ethnicities, countries represented, and backgrounds, are all things that schools can brag about, and if you bring a combination of these attributes to the table, they can and will want you.
Just some thoughts as I put off starting on my applications and Ponder ways to convince myself that this whole process will be easier than I have built it up to be in my mind. Tune in next week for the latest on my path to conquering the MBA admissions game.