Another Finance Movie? Bankers Rejoice!

CF
Points)
on 8/10/12 at 1:14pm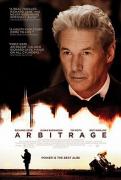 There's a new finance movie coming on September 14th, called 'Arbitrage'.
The story line: "A troubled hedge fund magnate desperate to complete the sale of his trading empire makes an error that forces him to turn to an unlikely person for help." Let me know what you think:
It does look like another Wall Street bashing movie doesn't it? I'd argue that most finance films aren't meant to be flattering; *ahem* American Psycho? I presume that the movie's intention is to criticize our leniency on the rich and powerful, simply because they are just that, rich and powerful, implied by the satirical tagline, 'Power is the Best Alibi'.
Also, why do you think this movie's titled 'Arbitrage'? I have some ideas, but what do you think?
I wouldn't be rushing out to watch it only because the plot looks somewhat cliche and predictable. The trailer does spark a bit of my curiosity, like who is Richard Gere's accomplice and how will the story unravel. Nevertheless, it's exciting to see another finance related movie come out, which we don't get enough and I'm sure I'll eventually see it. If you're interested, here's the link to the Sundance Film Review:
The threat of a Madoff-like collapse adds timeliness and tension to Nicholas Jarecki's Arbitrage, a screw-turner about a man whose greed may have finally caught up to him. Familiar but not stale, and greatly helped by Richard Gere's fine-tuned performance, it has strong commercial potential.
What do you think? Do you like the premise of the story? Is this a movie you would go see? Is this another attack on Wall Street, or is it more about human nature and greed in general? How do you think this story would play out?