Real Estate - Residential - Vice President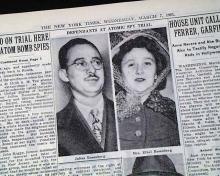 Wikileaks founder Julian Assange, the man behind the publication of more than 250,000 classified U.S. diplomatic cables, could face spying charges in the U.S. under the U.S. Espionage act.
http://abcnews.go.com/US/assange-lawyers-prepare-u...
His lawyer contends that it puts all media organizations at risk but activating rather than repealing the act, contending that the government will now take the actions in the future to censor papers and reporters through using this old legislation.
IMHO this argument is utter idiocy. In fact the newspapers who published the cables actually had the Pentagon and State Department redact the cables for security purposes. Assange is being prosecuted for illegally obtaining the cables for the express purpose of promoting his own goals.
http://www.pakalertpress.com/2010/12/04/shocker-us...
Upcoming Events
Apr 27 2016 -

7:30pm

to

9:30pm

Apr 29 2016 (All day)

to

Apr 30 2016 (All day)

Apr 29 2016 - 8:00am

to

Apr 30 2016 - 8:00am

May 1 2016 -

7:00pm

to

8:00pm

May 3 2016 - 8:00am

to

May 4 2016 - 8:00am
Poll
What do you consider "Working on Wall Street"?
Working for a high finance bank on the actual "Wall" St
10%
Working for a high finance bank in Manhattan
48%
Working for a high finance bank in the greater NYC area
13%
Working for a high finance bank in the (anywhere in the USA)
13%
Working for a high finance bank (Worldwide)
15%
Other
2%
Total votes: 1461