Bonus Bananas Mar 25, 2011
ST
Points)
on 3/25/11 at 6:00am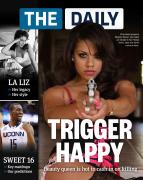 1. Ex-Goldman programmer gets 8 years for code theft (Reuters) - The Sergey Aleynikov saga has finally come to an end with his being sentenced to eight years in prison for the theft of Goldman Sachs's proprietary "Doomsday Machine" code. Hard to believe it's been almost two years since the public spectacle of his arrest.
2. How 20 Athletes Lost a Ton of Money With Bad Investments (Under30 CEO) - Okay, let me give you some background here. I was reading Josh Brown's blog post about the current venture mania and how pro athletes were starting VC funds during the Dot Com bubble when Under30 CEO published this gem. They're all in there: Michael Vick, Lenny Dykstra, even Johnny Unitas. Is nothing sacred?
3. How to Make $1 Million Before You Graduate (Forbes) - Wanna be a baller before you're even out of school? Check out how these 15 kids did it. My favorite? David Schottenstein, who started a custom suit company now doing $20 million a year with the $75,000 he made day trading in high school.
4. BANKER ON HOW TO SOLVE DEBT CRISIS: The Public Needs To Work Harder For Less Money And 50% Fewer Benefits (Business Insider) - This is a fun one. Hans-Jorg Rudloff, chief of the BarCap Management Board, told the Forum of Economic News that everyone in Europe needs to quit whining and get back to work. His prescription? Cut all social benefits by 50% and make everyone work longer hours and for more years. I'm guessing Hans isn't a really popular dinner guest over there.
5. US Cost of Living Hits Record, Passing Pre-Crisis High (CNBC) - Scary piece with a downright ugly chart attached. Cost of living since 2001 has risen at an almost perfect 45-degree angle. It's high time the Fed got real and included food and fuel in the CPI.
6. Blankfein Checks Profit Daily, Prefers Voice Mail to E-Mail (Bloomberg) - Lloyd was all over the financial press this week as he took the stand in the Galleon insider trading case. We learned that he reads the Wall Street Journal most mornings, that he prefers voicemail to email, and that he truly believes he's doing God's work. When asked about being a middle man, he replied, "It's a service we do for the world." Yeah. Take it down a notch, little buddy.
7. Preppers in Utah return to the Gold standard (Off-Grid.net) - You have to admire the Mormons for their devotion to preparedness. State Representative Brad Galvez successfully got a bill passed that would require the state to recognize silver and gold coins as legal currency. It's just waiting for the Governor's signature. The off-grid types, or "preppers", aren't interested in green paper with pretty pictures on it.
8. An Advocate Who Scares Republicans (NY Times) - There has a been a really ugly hatchet job being done on top consumer cop Elizabeth Warren in recent days, and the reason is she scares the shit out politicians on the take from the banking lobby. The worst offender (in my view) is none other than that squirrel Tim Geithner, who is deathly afraid she might do some good on her watch and endanger his exit ops when it comes time to collect his 30 pieces of silver. Never let 'em see you sweat, Doc. Uncle Eddie's got your back.
9. Morgan Stanley's Deep Secret Now Is Revealed (Bloomberg) - The big news this week was the Supreme Court ruling that the Federal Reserve must disclose the details of their emergency lending facility at the height of the crisis. While the full disclosure is expected in the next 72 hours (I'd bet money that it's released after 5pm tonight so it gets buried for the weekend and goes away), Bloomberg's Jonathan Weil did some clever homework and can reveal that Morgan Stanley borrowed $3.5 billion from the discount window on September 24, 2008.
10. Beauty Queen Killer Poses in Panties with Gun (Gawker) - Thought I'd finish strong this week with a story about girls with guns (coincidentally, also the title of a most excellent Tommy Shaw tune from the '80s). It seems the Florida beauty queen pictured above not only popped a cap in the ass of a home invader with a pink .38 (not making that up), but she's now stripping down to her delicates to pose for The Daily with a revolver. Nice. When asked why, she said it was to cash in on her newfound fame and she hopes to get an ad campaign for the NRA. This chick is pure redneck Viagra.
I'm actually pretty excited about this week's video. It's a trailer for Morgan Spurlock's newest documentary, called The Greatest Movie Ever Sold. Spurlock is an absolute genius when it comes to this stuff, and Super Size Me was brilliant. This latest offering looks to turn over the rocks in the advertising business, and I have a feeling it'll be hilarious. Check it out:
Hope you enjoyed the links, guys. Have a great weekend!