Free Time
IB
Points)
on 8/22/12 at 10:30am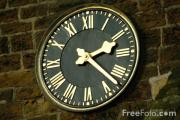 Good morning all,
Today I'm going to talk about free time. What's that, you may ask? Right, I forgot, you guys have no free time. Free time is the series of hours or minutes (hopefully more than just minutes) in a day during which you have no outside responsibilities. It's when you can do whatever you want, and not feel guilty about the fact that other things are being put off.
Free time is awesome, but those of us who are in investment banking have given up almost all of our free time, and those of us who are prospective monkeys are just naive 18-to-22-year-olds who think that giving up all of one's free time isn't actually a big deal.
For the past several weeks I have been working a PE internship, and certain weeks have given me my first real exposure to investment banking-like hours, and thus, no free time.
But I'm here to ask a different question altogether -- does free time actually exist?
This is a serious question, even for people who might be in the transitory period between college and a job and literally have oodles of "free time". My stance on this is as follows: free time exists for some people, but not for all, irrespective of the number of hours someone works or goes to school.
Wait, what?
Hear me out. Most of the people on this site -- people who are in finance or looking to get into finance -- aren't the type of people to ever truly have "free time". This is because a high degree of drive and motivation sidelines free time by definition. Take an example: last year I worked as a software developer, making solid money on a 8-5 schedule Monday through Friday. Most people would say that I had a lot of free time, and a lot of bills to take full advantage of it. But this was actually far from the truth, because I'm not the type of person who can take ruthless advantage of leisure time like other people out there.
Yes indeed, while working this pretty cushy job, in my time outside of work I was preparing myself for investment banking interviews, filling out MSF applications, studying technicals, and reading and digesting as much information as I could about finance to prepare for my next step. And when I wasn't doing these things, I often felt guilty and anxious because I wasn't using my time wisely and was "falling behind" by not staying on top of my game.
And this character trait is one that dates back to my childhood, and to this day I remember never being completely "OK" with taking advantage of leisure time because I know that my time could always be used more wisely and I could be accomplishing things that had important long-term implications.
Okay, great, so what does all this mean?
What this means, monkeys, is that for most of us, free time is just a myth, a pipe-dream. Not strictly because we work (or will work) many many MANY hours per week, but because for people who are interested in finance and doing well at it(read: Type A people), leisure time just isn't a thing. This is what drives people to answer the "what's your number" question with something like "there's always more to be made" or "I don't have one, I just like the hustle". Someone who has the personality and drive to make it into this industry (especially given current market conditions), is not the type of person who relishes their free or leisure time -- they're the type of person who might wonder "what can I be doing right now to better myself" when they're just screwing around and watching TV on a Sunday afternoon. And let's face it, if you're watching TV and wondering why you're doing that instead of something more productive, you're not really taking advantage of your "free time" at all.
So the next time work has you down because you only have enough time to shower before you collapse onto your bed, don't worry about it too much -- free time probably doesn't exist for you anyway.
What do you guys think? Is there such a thing as true, blissful leisure time for folks like us? Do you think you'd be okay with having a ton of leisure time, or would you immediately get bored and seek out the next "big job" or "deal" (metaphorically speaking)?
Thanks for reading.
"An intellectual is a man who takes more words than necessary to tell more than he knows." - Dwight D. Eisenhower
Check out my blog!