Give Me Bread or Give Me Death

Points)
on 8/3/10 at 12:00pm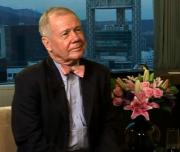 I have always been a big fan of Jim Rogers. His old school gentleman style, with the bow tie and the folksy drawl, always seems to confound the "savy types". I often imagine what an odd couple he and Soros must have made back in the late 60's/early 70's.
For several years now Mr. Rogers has been telling anyone who will or will not listen about the coming commodity bubble. Specifically, in regards to the basic necessities of life. While many of us think of only gold, oil and natural gas, the commodity landscape covers such daily necessities as bread and corn. Though not as volatile in the short term, they are the true indicators over the long haul.
Little pop quiz for you hotshots btw, how do most Americans consume their corn?
I am not shocked to see little discussion about this . After all, most of us are content to cover our heads with our hands and try and ride out the current storm. Focusing on stocks and bonds allows us to ignore dramatic underlying issues, which can really keep us up at night. A great example is how government subsidies have ruined the farming industry and created a supply depression that only needs one decent sized forest fire to starve millions.
We are currently witnessing the most dramatic rise in wheat prices in over half a century. Prices are up 62% since early June and last month we saw the biggest and fastest increase since 1959. For those who think this is just a momentary spike, you are ignoring the rise of a long term scourge. Luckily for us, we live in America. More accurately, lucky for us that the Midwest is in America. However, most of the world doesn't enjoy this luxury and the potential for seismic shifts in global markets is a plausible result.
One of the most ignored and discarded terms in finance is "correlation" often relegated to the thesis papers of stat and econ PhDs, global markets are more directly correlated and integrated now then ever. Wheat is arguably the most important financial commodity in the world today. We can do without almost anything we care about, but in a world where we have lost nearly all of the masculine survival instincts of our ancestors, the farmer remains our ultimate protector. Not the army. Not the law.
Not the government.
The farmer.
Short term, we worry more about Bernanke, Obama and Blankfein, but the truth is that the future of global economics lies in its roots, not in its offshoot derivative branches. With a mushrooming global population and skyrocketing demand for existential resources, the wheat markets will be ones to watch in not just the coming days, but the coming years and decades.
Take a note monkeys, and let Mr. Rogers tell you about his neighborhood one more time.
If cash is king, then wheat is the God who manifests destiny.