Grandpa And Grandma Are Taking Our Jobs

CO
Points)
on 5/22/12 at 1:45pm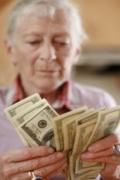 Back on the topic of what the composition of the labor force says about our society, the New York Times recently put out this graphic breaking down the labor force by age and gender over the past 6 years.
The graphic shows that from 2006 to 2012 all demographics 65 and older are working in greater numbers while everyone 65 and younger are working in fewer numbers (except for women aged 60-64). Clearly financial repression and investment volatility has had its toll on our elder class.
But again, what does this say about our society? Are our grandparents taking our jobs?
Many questions come to mind when examining the table. I wonder what the median income for workers over 65 is and what percentage of those workers simply love their jobs and how many would rather be retired but can't afford it.
What is clear is that the level of 'discouraged' workers is probably much higher than most would have guessed considering the low labor participation rate and how many baby boomers were scheduled to retire but couldn't.
Another interesting thought is that the current generation of young professionals as a whole is probably in the worst position due to diminished professional opportunities. Will the discouraged youth ever be able to catch-up from their slow career start later?
I know that the ROI on college degrees is debatable, but if you have been laid off from your manufacturing job for over a year, what are you options? In my opinion the attack on college degrees that are not skill oriented is well founded (e.g. film studies), but surely taking on debt to earn a degree in a well-positioned field such as computer science or accounting should pay off in the long term. After all, what better choice does our unemployed youth have?
Some would say that these levels of discouragement and delayed retirement have exposed cracks in our society and capitalism broadly. And of course, inevitable entitlement reform will only exasperate the situation for the elderly and impoverished. There is a need for reform, but I doubt the reform that comes through Washington will do anything but kick the can down the road.
All this spells out is more tough times ahead for generation y and beyond. Not only are younger professionals getting shafted by today's weak economy, but they will also front the bill for this mess in 30 years via higher taxes when they will be the ones getting ready to retire. Giving up your US citizenship and jumping ship to Singapore might not be a bad idea after all.
We are not kicking a can down the road anymore. We are rolling a Snowball down a mountain.