MBA's Learning Leadership The Hard Way: Outdoors

O
Points)
on 5/21/12 at 2:30pm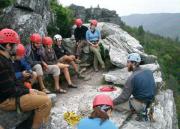 Several business schools are turning to new methods to teach leadership. One of those methods happens to involve leading a team of your fellow students through a treacherous environment in a leadership expedition organized by the National Outdoor Leadership School. Wharton and Kellogg have been organizing trips for several years, and HBS and several other MBA programs are in negotiations to begin trips in the near future.
The outdoor courses, which take students on seven to 10-day expeditions in such locales as Chile's Patagonia region, Alaska, and the Rocky Mountains are all designed to teach students to be more confident leaders who can work better in teams and function more effectively under challenging circumstances, whether traversing a glacier or dealing with challenging weather conditions, says Rick Rochelle, NOLS's director of professional training.
Will any of you do an outdoor leadership expedition while in your MBA program? Have any of you completed one?
While I am not known as an "outdoorsy" guy this seems like a fantastic way to get some hands-on leadership experience. While obviously being difficult it seems like it could also be quite fun. Thoughts?